Planning Your Vegetable Garden with Companion Plants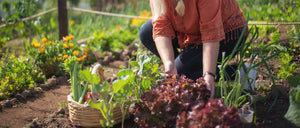 Planning Your Garden with Companion Plants
While it is not an exact science, it is practical and sensible depending on the space available to grow food.  When plants are grouped together that have a beneficial relationship, they can reduce insect and weed pressure, conserve the moisture, nutrients, and integrity of the soil, and encourage pollination resulting in increased yields.
Thousands of years ago, Native Americans would plant corn, beans, and squash together. These vegetables work well together since the corn provides a tall stalk for the beans to climb, the beans are a legume and fix nitrogen in the soil which feeds the corn and the large leaves of the squash provided shade on the soil which retained moisture levels and shaded out weeds.
When grouping plants, keep a few things in mind. Crops preferring cool weather would benefit from a Northeast facing, such as leafy greens, brassicas and root or tubers. Partial shade is beneficial for them, and they could benefit from corn being planted on the southwest side of their growing area.
Warm weather vegetables such as corn, tomatoes, peppers, and vine crops would benefit from a Southwest exposure and longer sunlight.
Pest Control can be assisted by planting certain crops close to each other.  For example, Basil planted near tomatoes repels whitefly.  Alliums next to
carrots can repel carrot fly and perhaps slugs.  Peppermint oil repels mice.  Herbs and flowers can be used throughout the vegetable garden in pairings, however, be careful of some.  Dill for example, should not be planted near tomatoes.  Other herbs spread easily like mints and lemon balm.  It would be better to contain their roots in pots placed around the garden areas
The following groups of vegetables do well as companions:
Alliums   

Onions, Chives

Brassicas          

Broccoli, Cabbage,          Cauliflower

Leafy Greens  

Lettuce, Spinach, Kale

Brassicas

Beans

Brassicas

Carrots

Carrots

Carrots

Lettuce

Herbs - most

Cucumber

Strawberries

Leafy Greens

Onion

Tomatoes

Onions

Radish

 

 

Strawberries

 

 

 

Legumes              

Peas, Beans

Potatoes

Tomatoes

Brassicas

Corn

Basil

Carrots

Beans

Cucumber

Corn

Brassicas

Marigold

Cucumbers, vines crops

Leafy Greens

Nasturtiums

Leafy Greens

Onions

Onion

Strawberries

 

 
Recommended Flowers and Herbs for Pest Control: 
Petunias – Repel many insects including tomato worms, aphids and leafhoppers. They are easy to grow in containers and add color to summer planters. 
Lavender – Repels fleas and moths while attracting beneficial insects and pollinators. It is fragrant, and beautiful in mixed pots. 
Bee Balm – Also called Monarda or Bergamot attracts pollinators and provides colorful flowers and interesting texture to planters. 
Marigolds – aromatic marigolds help repel whiteflies and kill bad nematodes, however, use caution because they can attract spider mites.  
Chrysanthemum - Repel ticks, fleas, ants, Japanese beetles, and many other insects, due to pyrethrin, a natural neurotoxin. Perfect for fall planters. 
Nasturtiums – Especially the yellow flowering plants combat whiteflies, wooly aphids, squash bugs, cucumber beetles and more.  Plant them near tomatoes and vine crops. 
Dahlias – Bring color and beauty to a deck while repelling nematodes. 
Basil – Does well planted with tomatoes and repels flies, thrips and
mosquitoes. 
Borage – Little blue star shaped blossoms attract bees and beneficial wasps while repelling tomato hornworms and cabbage worms. 
Catnip – Repels almost everything except cats! 
Chives – Provide textural interest in pots while repelling Japanese beetles and carrot rust flies. 
Dill – Plant near vine crops, lettuce and onions but away from tomatoes. Dill attracts tomato hornworms, pollinators and beneficial wasps. It repels aphids, spider mites and squash bugs. 
Mint – Repels mice and possibly other rodents.  Mint is an aggressive spreader, so containing roots in pots may be more desirable.
Pollinators are another consideration for companion plantings.  Pollinator plants are planted to attract bees, butterflies, moths and hummingbirds.  Any flowering plant will have increased fruiting and yields with an abundance of pollinating visitors.  Complementary plants to have in the area are:
Purple coneflower (echinacea)

Black-eyed Susan
Salvia (red especially for hummingbirds)
Borage
Aster
Blanket Flower
Yarrow
Goldenrod
Click on The Mill Seed Catalog below for information on growing varieties: