Ilex verticillata or Winterberry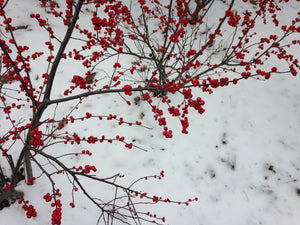 Commonly known as Winterberry, this deciduous holly flowers along the stem and develops brightly colored red, orange, or salmon berries in the fall. Native to eastern North America and typically found in damp thickets, swampy areas, near lakes, streams, and moist woodland areas.  
The plant is dioecious growing 6-15 feet tall and suckering to 20 feet wide.  You must have a close male plant to ensure your females will develop fruit. This is typical of many Ilex.  
Winterberry blooms from April through June and is a great source of nectar for native solitary bees. The berries which release sugars best after freezing is a winter food for our birds.  Plants are frequented by Robins, Black Capped Chickadees, Cedar Waxwings, Bluebirds, Cardinals, as well as many others. It is also the host plant for the Henry's Elfin Butterfly. 
The plant is multi-stemmed and will sucker with age creating a great nesting site for birds. Branches typically cross and fork with leaves at terminal ends providing protection from predation.  
Besides providing for our wildlife, this plant can be used in decorating during the holiday season. Place Winterberry with greens in your outdoor pots over winter for interest and color.