Ornamental Grasses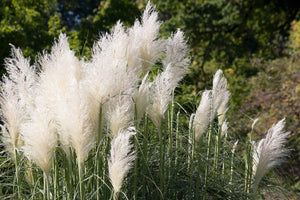 Ornamental Grasses
There are two classifications of grasses:
     1. Sedges- which have triangular stems that are solid.
     2. Grasses- which have cylindrical stems that are hollow.
Grasses are flowering plants that are wind pollinated and grow best in their specific habitat with little to no care. Most ornamental grasses do not require fertilization or additional watering once established. Grasses give movement, color, and height in garden plantings and look best when planted in masses. There are two types of grasses:
     1. Clumping – which increase in girth and may produce viable seeds but will not spread underground.
     2. Running – which spread by rhizomes underground and can lessen maintenance in a garden if used correctly. Running grasses need containment. Bamboo is an example of a running grass.
There are now over four hundred named ornamental grasses and cultivars in the United States and over 2600 worldwide. Most grow in a particular environment and are usually disease resistant. Grasses provide food for songbirds and provide winter food and protection for other species. Once established they need little to no care. Prune back once yearly in the early spring. Grasses native to our area provided food for our native songbirds, protection for our Lepidoptera species, and protection for both over the winter months. Non-native grasses do not provide the same support in our ecosystem but still offer color and movement in the landscape.
Native Grasses and Sedges in Our Region that Provide Color and Movement:
Panicum virgatum – Switch grass – Common cultivars:
Shenandoah Cheyenne Sky                 North wind Dallas
Blue Heavy Metal                                  Rotstralbusch
Panicum sp. prefers full sun, well-drained soil, grows in zones 4-10, and provides great fall color. Their height can range from 36 inches to 5 feet. Once established they need little care and are very drought tolerant. They also provide aeration to compacted soil with their root systems.
Chasmanthium Northern Sea Oats
Grows 3-4' tall and tolerates full sun to full shade. It provides oat-like seed heads for fall interest which linger into winter offering food for foraging songbirds. Seed heads are golden brown and hold through the winds of winter.
Carex sp.
Sedges that are popular for part shade to shade planting as a ground cover. Cultivars are native to woodland areas:
Carex plantaginea 
Small clumping sedge that grows in moist woodland areas great companion to ferns and woodland flowers.
Carex muskingumensis – Palm sedge
Is native to wet meadows – grows to 2 feet – 'Little Midge' cultivar seen at garden centers.
Carex pensylvanica 
Native to woods in eastern US – great lawn alternative for woody settings, grows to 8 inches but can mow to 2 inches.
Carex varieties are native to the mid-Atlantic region.
Luzula – Wood Rush
Another woodland grass native to the coastal US that prefers part shade and dryer conditions. It will not tolerate dense shade under deciduous hardwoods. Once established it can take dry conditions.
Muhlenbergia – Muhly Grass
This cultivar prefers sandy soils. It has bluish foliage topped with airy seed heads in shades of pink to purple. The fine texture requires mass plantings to make this one stands out. It grows to 3 feet.
Saccharum sp. – Plume Grass
Plume grass is native to Delaware shores. It has a narrow, upright form reaching 6-10 ft. depending on the cultivar. There are over 40 species. Leaves are green turning to bronze in the fall. Reddish brown flower clusters are carried over the leaves in fall. It thrives in full sun to light shade with moist soils and it can grow in clay.
Schizachyrium – Little Bluestem
Native to open woodlands, it tolerates dry conditions. Little Bluestem is a valuable forage grass that grows 2-4 ft. In height. Blue foliage all summer gives way to bronze foliage of fall and winter. It requires full sun, poor soils (non-fertile), and little to no mulch.
Juncus – Common Rush
This widely native grass grows in wet, sunny habitats. It will grow in bogs and offer great structural interest. Hardy to zone four, it grows 1-4 ft. depending on the cultivar.
Non-Native Ornamental Grasses for Movement in the Landscape
Cortaderia – Pampas grass
Pampas grass is native to New Zealand and South America and requires warmth, sun, and fertile soil. It offers large plumes with heights up to 10 ft. Pampas grass does not like our regions humidity in fall and winter.
Festuca glauca – Blue fescue
Blue fescue is short, growing to 1 ft. And forming a bright blue grass clump. It is very ornamental due to its intense color. It does not like moist conditions and is short-lived. The cultivars offering great color are Elijah Blue, Spring Blue, and Siskiyou Blue.
Hakonechloa – Japanese Forest Grass
This graceful arching foliage is not invasive and offers great structural interest for shade gardens. It forms mounds of 1-3 ft and requires moist, cool conditions to prosper. It can have a fungal issue in the mid-Atlantic as reported by the Dept. of Ag. and appears to be more affected in more humid, densely planted gardens.
Imperata – Japanese Blood Grass
A rhizomatous ground cover that is considered invasive. It is grown for its red color. Imperata is a target of restrictions by USDA.
Miscanthus – Japanese Silver Grass
This grass encompasses twenty larger varieties of ornamental grasses. It prefers full sun and is drought tolerant. Use it as a specimen as well as for mass plantings. Most are clump-forming. It is long-lived and renewed by division. Cultivars of interest:
Purpurascens – has a red-orange foliage, is early to flower and very cold hardy. It grows to 5 ft tall
Little Kitten – A narrow-leaved grass up to 3 ft tall Morning Light – The best all-around cultivar has a narrow leaf, grows up to 6 ft. With white variegation to the leaf and reddish flower spikes. It tolerates part shade.
Gracillimus – Grows 5-8 ft tall with a bronze,-red plume from August into winter Gold Bar – Grows 3-5 ft tall and is a gold banded grass.
Pennisetum There are over 80 cultivars native to the tropics and warm regions. They produce a characteristic fountain of flowers that flows from a mound of foliage. Pennisetum is clump forming, prefers full sun and is best divided and planted in spring, although it can self-sow. It is becoming invasive in California and drier regions of the US.  Cultivars of interest:
Little Bunny – Only grows to 18 inches up to zone 6. It produces cream flowers over a green grass mound
Moudry – Blooms Sept. to Nov. With dark purple to black flower heads and grows to 2 ft.
Hamelin – It blooms cream flowers and grows to 3 ft. with good mass groundcover
Karley Rose – Blooms with pink tinted flowers and grows to 3-4 ft. It is hardy to zone 6 Rubrum – Is a purple fountain grass with rich burgundy foliage and is hardy to zone 9. It is a great annual for color into fall and grows upright to 4-5 ft;
Information was sourced from Quality Greenhouse catalog, Babikow Greenhouse catalog, and Perennial Farm catalog.