Camellias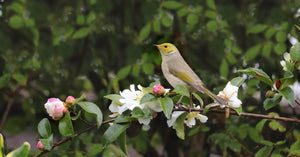 Sought for off-season vibrant colors this evergreen large shrub prefers morning sun, afternoon shade, and protection from winter winds.  Acidic, loamy, organic
soils, adequate water when needed, and well-draining soils allow them to grow best. They are usually referred to as somewhat difficult to grow but if sited correctly and watered when needed are long-lived and beautiful. There are over 250 species of camellias.  
Camellia sasanqua is the fall blooming variety that depending on 
the cultivar, can bloom from early fall into winter. These are native to China and Japan, are hardy zones 7-9, and grow from 6-14 feet tall by 6-8 feet wide. Their leaves are not as dense and large as the other varieties.  They can handle more sun than other varieties and their flowers are profuse, fragrant, come single or double, and are a bit smaller than other varieties.  They grow faster than their spring-blooming counterparts Camellia japonica. There are around 1800 cultivars.  
  Camellia japonica has larger, glossy, more coarse leaves, and larger flowers.  Flowers can be single, double, semi-double, formal double, peony, and rose-like. They bloom late winter into early spring for about 3-4 weeks. They require protection from drying winter winds and do best with a layer of mulch over the root zone up to 1 inch in depth to hold moisture. This large shrub can reach 12-14 feet tall by 8-10 feet wide and is hardy in zones 6-10.  Flower colors can range from white to pink to maroon and all colors in between. These are native to China and Japan. There are over 30,000 cultivars. 
Camellia sinensis is one of the most widely grown as the leaves are used to make tea.  Young leaves are used for caffeinated green tea, older ones for oolong and black, and the buds are used for white tea. Native to China, this one blooms in early winter and flowers are single white petals with yellow to cream centers. The leaves are toothed and glossy green.  It prefers the same care as all camellias and grows 6-12 tall by 6-8 wide.   
A wonderful plant for almost any garden offering fall into winter color and providing evergreen appeal.