What is Pan Testing of Crop Products?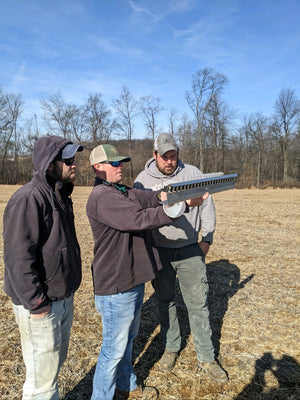 The uniformity of crop products being applied to a field is essential for achieving maximum crop yields and avoiding wasted product. There are several ways to test the uniformity of the amount of nutrients being applied to a field. The Mill uses Pan Testing which is sometimes called a Spread Pattern Test. We pan test our equipment that we do custom application with (Prowlers) twice per year. Once just prior to pre-plant season and then again prior to top dress of nitrogen on corn in early June as the density of the fertilizer often changes drastically from the March/April application to the June top dress.
Pan testing involves placing a series of containers across the field or in a grid pattern across the field.  They are left for the duration of the application of fertilizer or lime. The pans are then collected and the product is poured into a measuring vials to determine the amount and consistency of product. 
This method helps identify where application equipment is not applying material evenly across the field due to the fins on the spinners needing to be adjusted or replaced. Uniformity of products can also be compared to see if there is inconsistent flow between products blended together or if the product density and uniformity has changed mid-season.
By ensuring fertilizer or other products are being spread uniformly, farmers can avoid wasting product and can be efficient in nutrient utilization by the crops to ensure maximum production and return on investment of inputs.