ADAPT-N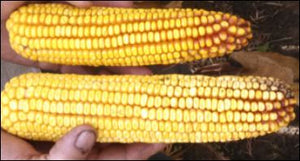 Maximizing Corn Yields with Adapt-N and Productivity Zones 
Nitrogen is a critical nutrient for corn growth, but applying too much or too little can result in reduced yields, increased costs or reduced ROI (return on investment). To help farmers optimize nitrogen application and maximize corn yield, plant nutrition companies have developed innovative tools, such as Adapt-N.
Adapt-N is a real-time decision support tool that calculates precise nitrogen 
recommendations for your corn crop. The tool predicts plant demand for nitrogen by accounting for weather, soil moisture, and many other variables. This information is then used to calculate the perfect amount of nitrogen needed to achieve maximum yields.
One of the key features of Adapt-N is its ability to designate productivity zones within a field. These zones are determined based on historical yield data, which helps to identify areas of the field that have similar potential for yield. This data is then used to figure out a yield goal for each productivity zone. 
Once the productivity zones and yield goals have been established, the Adapt-N model suggests the right nitrogen rate for each zone. The model considers real-time weather data, soil moisture levels, and other factors that affect plant demand for nitrogen. This allows farmers to make precision nitrogen applications, based on the specific yield goals of each productivity zone. 
Adapt-N is a dynamic simulation model which uses near real-time climate data, and field-specific management, soils and crop data supplied by the users.
For example, consider a farmer with a 100-acre corn field, divided into two productivity zones, each with a different yield goal. Using Adapt-N, the farmer can create two separate nitrogen recommendations, one for each zone, ensuring that each zone receives the optimal amount of nitrogen for its specific yield goal. This results in improved yields and reduced costs, as farmers can avoid applying too much or too little nitrogen in any one area. 
Adapt-N can also be used for top-dressing nitrogen, allowing farmers to adjust nitrogen applications throughout the growing season, based on real-time data analysis and the specific yield goals of each productivity zone. This results in improved profits. 
In conclusion, Adapt-N technology offers a valuable solution for maximizing corn yields and reducing costs. By using historical yield data to determine productivity zones and yield goals and using real-time data analysis to predict optimal nitrogen rates, farmers can achieve their yield goals and increase their profits with less lost nitrogen to the environment.  
Sample Report:
Contact The Mill Agronomy Team for more information on utilizing Adapt-N modeling or The Mill's variable rate equipment options to improve your yields and ROI by emailing MillAgronomy@themillstores.com, by calling 800-993-3300, or visiting www.themillagronomy.com.