Which Vegetables are Best to Plant in the Fall?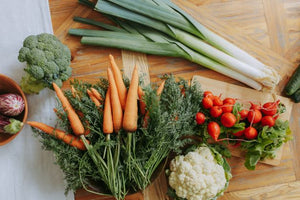 Late July through Mid-September is an ideal time to start your fall cold crop vegetable seeds or transplants in the Mid-Atlantic region. The warm summer soil temperatures help seeds germinate quickly and there is no risk of tender seedlings getting frost damage or rotting in cold wet spring weather. There are typically less pests to challenge the fall garden crops, so you can spend less time and money controlling insects. Below are great varieties to consider for your fall and winter gardens.  
Collards  
Collards are a great summer green because they do not bolt as quickly as some other greens in extreme heat, however, they are also some of the hardiest greens for withstanding the colder temperatures. They can survive temperature plummets into the single digits if not prolonged cold spells. In mild winters, they can survive through the winter and allow for continued harvests.  
 Spinach 
Spinach is a great fall crop and holds its nutritional value well. It is another green leaf crop prone to bolting quickly during the heat. With the mild winter in 2019, spinach that was planted in a protected area stayed green all winter and provided an abundant early spring crop in Southern PA for those who overwintered it. 
 Kale 
Kale is another cold hardy green which can survive and even thrive in hard frosts and continue producing into early winter. One benefit of kale is that after frost, the leaves do not turn bitter as can be the case with some of the other greens. 
  Lettuce 
Lettuce is a crop that prefers cool temperatures. In the heat of summer, lettuce will bolt early and turn bitter when heat stressed. While lettuce seems fragile, it can do well in very cold, even frigid temperatures. 
 Swiss Chard 
Swiss Chard is another leaf crop that can survive some hard frosts providing ithas protection. Mulch will help retain heat in the soil to extend the harvest window into early winter. Prolonged freezing will kill the plants. Colored stalk varieties are not as cold hardy. 
 Mustard 
Mustard is cold tolerant and adds interesting flavor and texture to your mix of greens in the fall garden. 
 Cabbage 
Many varieties are very cold hardy and thrive through fall and into early winter. They do very well in cool, wet weather which is perfect for most Mid-Atlantic fall months.  
Carrots 
Nearly all varieties are cold tolerant. If roots are mature, you can leave them in the ground even after a hard frost if you provide a little protection so that you can get them out later. The tops may need to be cut off if you plan to keep them in the ground. Like Kale and Collards, extreme cold helps sweeten the carrots. 
 Beets 
Another cold hearty root is the beet. Beets sweeten in colder temperatures and can survive periodic dips down to zero, however, they cannot be left in the ground as long as carrots. Beets are packed with nutritional value. 
 Turnips 
Turnips are like beets in their growing habits and ability to thrive into early winter. Like Beets, they cannot be left in the ground as long as carrots. When grown in the heat of summer, they stay small and pungent tasting. With cooler soils, they are plumper and milder tasting. A frost over your turnip patch will result in a much sweeter turnip. 
 Rutabaga 
Rutabaga is another root vegetable that prefers cool temperatures. Rutabagas are a hybrid root that are a cross between a cabbage and a turnip. They have a mild taste that hints at a cabbage flavor and when roasted have a soft texture. 
 Radishes 
Radishes grow quickly and prefer cold temperatures. They produce well into the fall season. The flavor is milder and preferred in colder temperatures. Try the Chinese White Winter radish variety for the winter gardens. 
 Parsnips 
Parsnips are ideal for the winter garden. They are slow to germinate like carrots but can be left in the ground after freezing for harvesting through the winter. Protecting the soil to be able to harvest after the ground freezes will be desirable. Parsnips produce mild, large roots that are great in soups and stews as can be served roasted and seasoned as well. 
 Garlic 
Garlic is a winter crop. It is often planted in the fall for summer harvest. While you may be able to harvest a little garlic if planted early enough, most growth of fall planted garlic occurs with early spring warming. 
 Leeks 
Varieties with dark green foliage have more cold tolerance and can survive temperature dips into the single digits. While leeks do well in the summer heat, they are mild and plump through cool fall temperatures as well. Leeks do not respond to length of daylight like onions do, so they are perfect for shorter fall days. 
 Broccoli 
While broccoli is grown in South American climates, it is a crop that prefers cooler temperatures. In hot dry weather, broccoli can bolt early. Flavor can become pungent quickly in hot temperatures. While it does not do well after hard frosts, broccoli can be planted in late summer to harvest late fall. 
Cauliflower 
Like broccoli, cauliflower grows well in the fall months if planted early enough to harvest before temperatures dip into the teens. Cauliflower will have a mild flavor in cool fall temperatures. Choose a short season variety like Snow Crown for early and extended harvests for as long as the weather cooperates. 
 Peas 
Peas are a favorite fall crop. They are abundant producers in cool temperatures. It is difficult to get peas planted early enough in the spring to reach their best producing potential before summer heat slows them down, but in the fall, they are abundant producers and prefer summer soil temperatures during germination and early growth. 
 Cover Crops 
Don't forget to consider cover crops on garden areas that are harvested for the growing season. Cover crops are planted because they germinate quickly in cold soils and retain nutrients in the root systems that are then incorporated back into the soil in the spring providing food and organic matter to the soil for your spring plantings. Cover crops reduce soil erosion through the winter and keep the soil more balanced for beneficial soil microbes. 
Click here to view our seed catalog