Hyssop or Agastache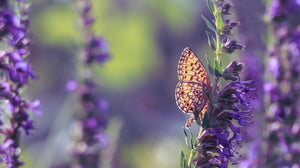 Agastache
Perennial Agastache or hyssop offers great resources for pollinators and consistently draws large pollinator counts.  The plant requires good drainage, average dry to medium soils, summer heat and humidity, and at least 6 hours of good sun.  The native Agastache foeniculum is mainly a western prairie plant
and many of the varieties with purple to blue flowers are variations of the native.  The colored varieties are yellows, coral, reds, and oranges, and come from variations of southwestern Agastache mexicana. They are not quite as hardy in this area, especially during cold wet winters. 
Both variations are great for attracting butterflies and bees to your garden, orchard, or flower beds. The tubular flowers also attract hummingbirds.
Hyssop is hardy from zones 4-10 depending on the variety. They are non-invasive in the garden but can grow to 4 feet tall by 3 feet wide.  Give them plenty of room.
The variety Blue Fortune is a robust almost non-stop bloomer.  The lavender to bluish 5-inch flower spikes develop on the terminal ends as well as secondary flowers throughout the plant.  The leaves on all Agastache are licorice scented and not a favorite of deer.
There are over 30 varieties available on the market with all adding good summer color, nectar, pollen, and resistance to drought.  This is a great plant to have in your perennial garden.