Hellebores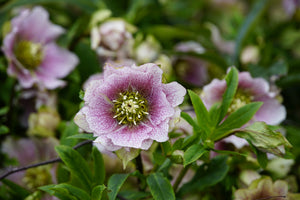 Helleborus                                  
Hellebores are winter hardy evergreen shade perennials that bloom late winter in colors ranging from pure white to pastel green to deep purple.  The flowers are either nodding or facing upward. They are deer and rodent resistant and only require light pruning of the older leaves when new growth emerges. 
There are many varieties, and some have fragrant flowers.  They prefer well-drained organic soil and filtered sun or shade.  Fertilize yearly with a product that has lower nitrogen and higher potassium and phosphorous.  Flower Tone by Espoma works well.  The only pruning required is to remove older leaves when they look tattered or damaged. 
Hellebores are in the Ranunculaceae family and there are over 20 varieties.  Helleborus foetidus or the Bear Foot Hellebore can handle a little more sun than the others, has uniquely serrated leaves and the flower is a pastel green.
Helleb
orus niger, known as the Christmas Rose, is hardy in zones 3-8.  In the warmer zones, it blooms around Christmas.  It has pure white rose-like flowers.
Other varieties include Helleborus argutifolius, orientalis, and x hybridus and they all bloom in the late winter through spring.  Not only do bloom colors vary with varieties and species but the leaves can be powdery blue, green, or variegated.
Once they finish flowering allow the flowers to fall and they will readily self-sew near the existing plants.  If you want to collect seeds do so in late spring through early summer once the flowers are fading and capsules swell.  Remove the shiny black seeds from their capsules and sew in areas that you would like.  Lightly rake the seed in but do not bury them.  As the sap of the hellebore can be caustic, it is recommended to wear gloves during this seed collecting and planting.
The hellebore is a long-lived plant and does not tolerate transplanting very well.  If you must transplant them, do so when they are young or seedlings. 
For late-season flowers, and deer resistance the Hellebore is a great addition to the garden!