Coral Bells (Heuchera)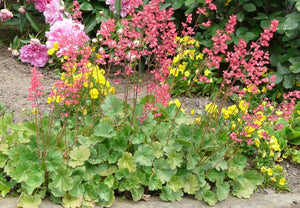 by Cindy King, CPH, The Mill 
Heuchera commonly called Coral Bells or Alumroot are evergreen or semi-evergreen herbaceous perennials.  They have a woody root stock or crown, bell shaped flowers in spring that attract hummingbirds and are hardy zones 4-8.  They prefer full sun to part shade and a moist, loamy, organic soil that drains. They do best with a little mulch in the winter months when the ground is frozen as they tend to heave. 
There are over 50 species of Heuchera with 35 being native to North America.  There are over 500 varieties on the market today.  Colors of leaves vary from chartreuse to deep purple almost black.  Flowers are held over foliage in colors of red, pink, and white.  The flowers are small and tubular and a favorite of hummingbirds.  Most bloom late May into June and a few varieties bloom in the fall.
Mount Cuba Center's trial garden has done extensive research on 2 native cultivars and many hybrids of each.  They grew Heuchera villosa and Heuchera americana, and trialed for vein coloration, leaf margins, leaf color, how they performed in the mid-Atlantic area, and growth rate.  They determined that the darker leaved varieties hold up better in full sun, while the lighter color do best in part shade. This research is published on their website.
Heuchera should be divided every 3-4 years to keep plants tidy.  Remove winter damaged leaves in spring for a fresh look.
Heuchera can grow under Juglans nigra (black walnut) and can tolerate some drought once established.  They are great as a naturalized bed front. Heuchera also do well in pots and their leaves add great color to the thriller level. 
With the endless leaf variations there must be a Heuchera out there for you.