Bountiful Berry Bushes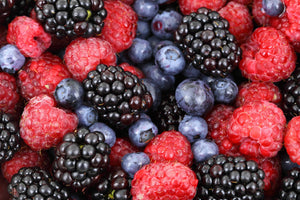 By Cindy King, CPH, The Mill
Berry producing plants like blueberries, raspberries, and blackberries all require slightly different conditions to produce fruit for your family.
Blueberries require moist, organic, loamy soils with a pH of 4.5 – 5.5 – so very acidic.  If they are not in acidic soils they will grow poorly and have a yellow pallor. They require full sun and good air circulation.  Many growers mound soils to plant, use pine needle mulch, and run drip irrigation to the rows for watering as needed to keep moist.  Water during fruit production is a must as this process requires water.
Blueberries come in many varieties early, mid and late-flowering should be mixed to produce fresh fruit for the longest time. Typical varieties carried are the high bush, lowbush, and rabbit-eye.  All can be eaten but some are better for fresh eating and some for cooking.  Make sure you decide which you would like to grow.  Once you decide, plant early, mid, and late-flowering for a prolonged production time.   Make sure your flowers overlap so that the berries can become pollinated.  Do not spray during flowering for any reason.
Raspberries require moist, organic, well-draining, soils, full sun, support to holdbrambles off ground, and pruning when needed.  There are fall producing and summer producing plants.  Water at base only – never get leaves wet with irrigation.  Good air circulation prevents many fungal issues.    
Blackberries should be planted in full sun. Blackberries prefer moist, organic, well- draining soils.  Water at base if you irrigate.  Good air circulation is a must.  Prune yearly and make sure plants do not dry out during fruit production.