Beautyberry (Callicarpa) Shrubs - a Native Food for Birds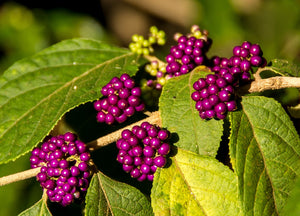 Callicarpa, commonly known as Beautyberry, is a medium shrub that is grown for the vibrant purple berry clusters that they develop in the late summer and fall.  There are two varieties on the market that consumers can usually find in garden centers.
Callicarpa americana our native beautyberry grows to 4-5 feet tall and wide. Arching branches develop bright green leaves followed by inconspicuous whitish flowers in early summer.  Vibrant purple berries develop along the stems in clusters.  They grow best in filtered to full sun.  Songbirds favor the berries and spread the plants.  It is hardy from zones 6-10.                                 
Callicarpa dichtoma originates from China, Korea, and Japan and grows approximately 5 feet tall and wide.  The arching branches develop small pinkish-white flowers in early to mid-summer followed by drupes of bright lavender berries.  The shrub can grow in part shade to full sun and will flower more evenly and develop more berries in full sun.  This plant blooms on new wood so prune in the spring to shape.  Berries are a favorite of birds and plants are spread by birds.  The shrub is hardy zones 5-8.
Both make a great addition to your garden and look best if planted in mass or used as a hedge or woodland plant.  Pair with Pyracantha or Ilex verticillata for a smorgasbord of food for the birds.