2021 Varieties of Berry Bushes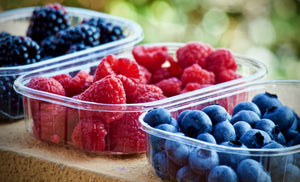 Below is a fairly comprehensive list of the varieties that we should be able to get this year at The Mill of Kingstown. They are 1-2 year plants in 1 gallon pots, have good captured root systems and are branched.  If you have any questions please do not hesitate to call.   Limited availability at other Mill locations.
Blueberries 
Blue Crop – mid-season variety – 5' tall – one of the best all-around varieties – hardy – consistent yields – large, sweet berries.   
Blue Ray – mid-season with large classic blueberry tasting berries.  Versatile older variety. 
Chippewa – early variety with large berries yields 3-7 lbs. at maturity.   This is a high /low bush cross.  
Darrow – consistent producer of tart berries – mid-late season variety.  
Duke – medium to large mildly tart berries – early variety 
Jersey – late season variety with small to mid- sized berries – sweet in taste – one of the oldest varieties 
Legacy – medium sized fruit with superior sweetness – mid-late season 
Patriot – early season with large sweet berries  
Pink Lemonade – sweet pink berries – newer variety – mid to late season 
Sweetheart – flavorful dark berry – mid season 
Top Hat – true dwarf variety with small flavorful blue fruits – best used for planters.  
Raspberry  
Boyne – red berries, productive, hardy 
Fall Gold – yellow gold fruit – sweet 
Heritage – ever-bearing harvest July and Sept. mild flavor mildew resistant 
Meeker – brilliant red fruit – traditional raspberry flavor 
Willamette – dark red fruit ripens in mid-summer  
Blackberry
Arapaho – earliest blackberry to fruit – flavor excellent – large firm fruit 
Boysenberry – cross of blackberry, raspberry, and loganberry – dark purple berry – very juicy 
Marion – trailing – medium to large fruit – tart slightly sweet fruit –  
Prime Ark – early heavy producer – sweet juicy berry 
Triple Crown – fruits early August – sweet berry.  Thornless – dense plant